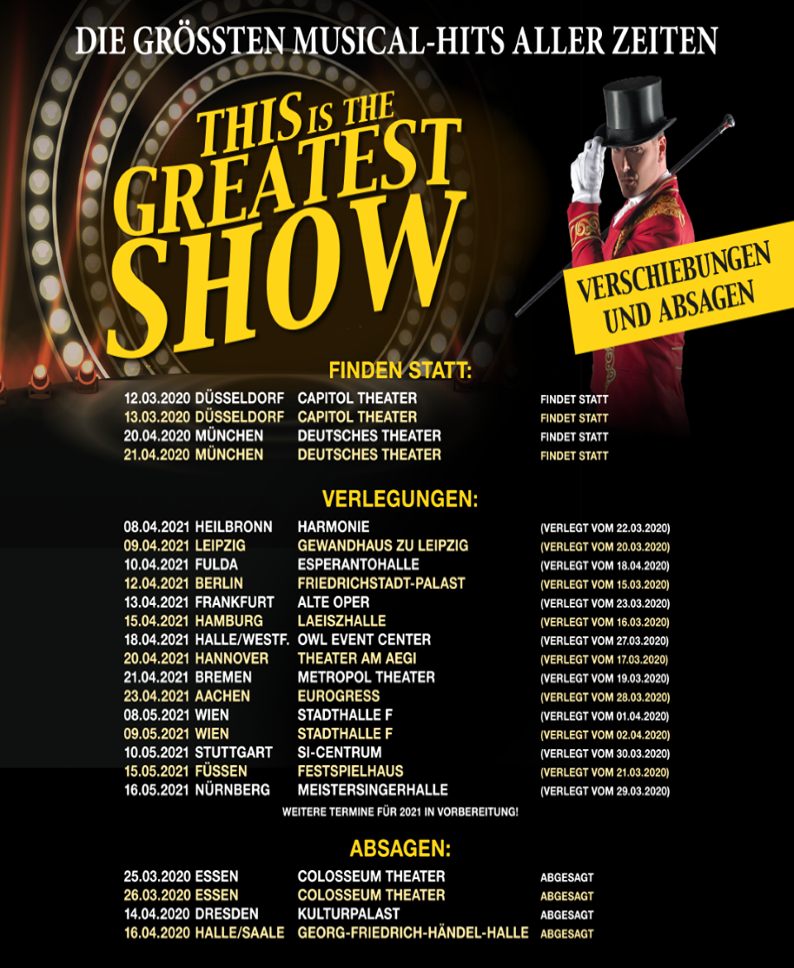 22. März 2020

Marion Kanz
Liebe Besucher,
bitte beachten Sie den Hinweis unseres Partners Semmel-Concerts zur Konzert-Reihe "THIS IS THE GREATEST SHOW":
Aufgrund der aktuellen Situation in den meisten
deutschen Bundesländern, deren Behörden Veranstaltungen über 1000 Besuchern aussetzen und der Regelung in Österreich, wo Indoor-Veranstaltungen mit über 100 Besuchern nicht stattfinden können, müssen die für den Zeitraum 15.03. bis 19.04.2020 geplanten Tourneetermine "Die größten Musical Hits aller Zeiten! This is THE GREATEST SHOW! – Live 2020" auf das Jahr 2021 verschoben, beziehungsweise zum Teil abgesagt werden. Die Termine 20.+21.04.2020 in München finden statt.
Tickets behalten für den jeweiligen Ersatztermin ihre Gültigkeit. Tickets für die abgesagten Termine können an der Vorverkaufsstelle zurückgegeben werden, an der sie erworben wurden. Wir bitten um Verständnis. (Stand 12.3.2020)