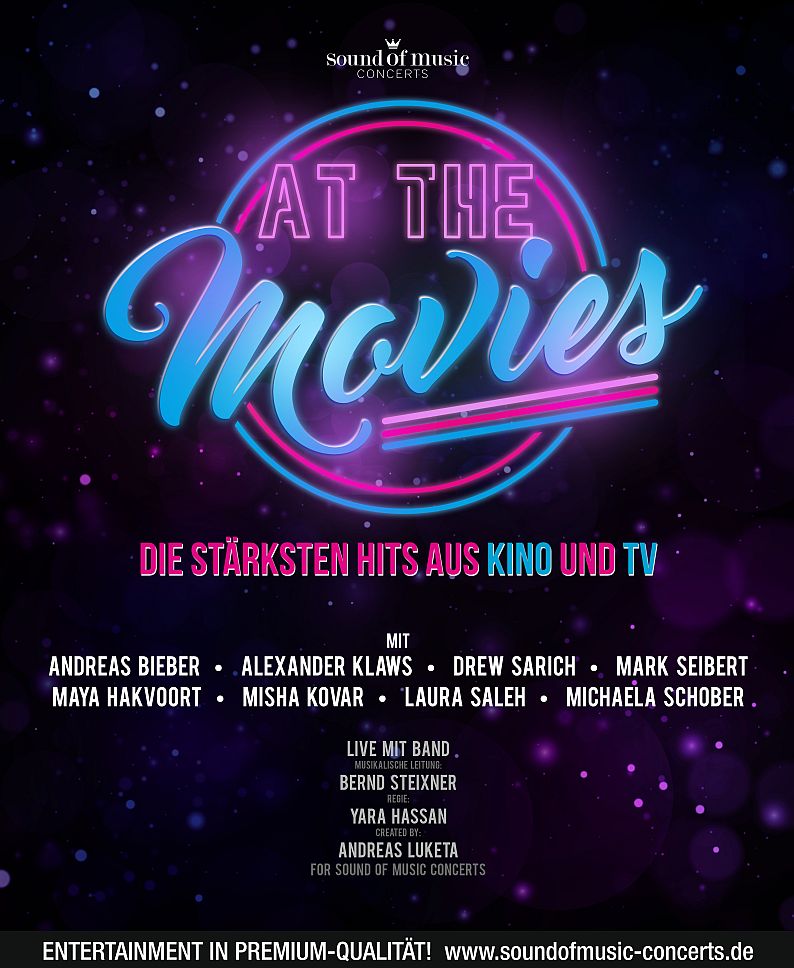 ANDREAS BIEBER, ALEXANDER KLAWS, DREW SARICH, MARK SEIBERT
MAYA HAKVOORT, MISHA KOVAR, LAURA SALEH, MICHAELA SCHOBER
LIVE MIT BAND
MUSIKALISCHE LEITUNG: BERND STEIXNER
REGIE: YARA HASSAN / CREATED BY ANDREAS LUKETA
Film: Das heißt fremde Welten und andere Zeiten bereisen, Abenteuer erleben und neue Geschichten gebannt verfolgen,
die einen emotional berühren und mitreißen. Seit den 70er Jahren kommen in Filmen und Serien verstärkt extra dafür komponierte Songs zum Einsatz, von denen viele zu echten Welthits wurden, und die wir mit unserem Programm AT THE MOVIES mit Ihnen gemeinsam feiern möchten.
Mehr als 32 Songs haben unsere acht Solisten im Gepäck, die jeden Filmfan zum Schwärmen bringen dürften, darunter A MILLION DREAMS, THE EYE OF THE TIGER, I CAN ONLY IMAGINE, IT MUST HAVE BEEN LOVE, I DON'T WANNA MISS A THING,  I'VE HAD THE TIME OF MY LIFE, LOVE IS ALL AROUND ME, MY HEART WILL GO ON, THERE YOU'LL BE, THIS IS ME oder WHO WANTS TO LIVE FOREVER. Und neben den aktuellen Songs aus TV-Hits wie BABYLON BERLIN, KU'DAMM 56, OUTLANDER, THE PROM gibt es so auch die großen Hits aus DIRTY DANCING, THE GREATEST SHOWMAN, DER HERR DER RINGE, DREI NÜSSE FÜR ASCHENBRÖDEL,  NOTTING HILL, EIN OFFIZIER UND GENTLEMAN, PRETTY WOMAN, ROBIN HOOD, ROCKY, TARZAN oder VIER HOCHZEITEN UND EIN TODESFALL.
Seien Sie außerdem dabei, wenn wunderschöne Film-Songperlen, die wir erstmals für diese Abend ausgesucht und neuarrangiert haben lassen ihre exklusive Premiere bei einem Format von SOUND OF MUSIC feiern werden…
Yara Hassan führt Regie bei dieser Show, die Andreas Luketa kreiert und konzipiert hat.