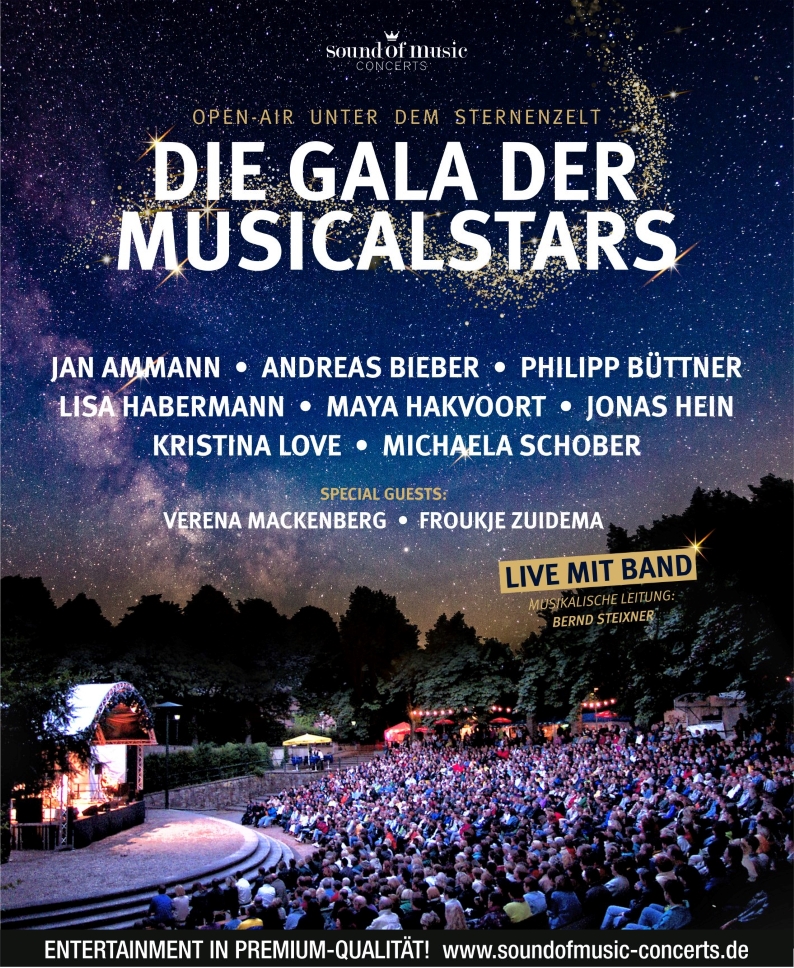 OPEN-AIR  UNTER DEM STERNENZELT
17.09.2022 BURGTHEATER DINSLAKEN
19:30 UHR (EINLASS: 18:30 UHR)
JAN AMMANN
ANDREAS BIEBER
PHILIPP BÜTTNER
LISA HABERMANN
MAYA HAKVOORT
JONAS HEIN
KRISTINA LOVE
MICHAELA SCHOBER
SPECIAL GUESTS:
VERENA MACKENBERG
FROUKJE ZUIDEMA
Live mit Band
Musikalische Leitung: Bernd Steixner
Begleiten Sie zehn Ausnahmestimmen der deutschsprachigen Musicalszene auf eine
musikalische Reise zu den großen Bühnenerfolgen aus Deutschland und Österreich, und
den großen internationalen Hits vom Broadway, dem Londoner West-End und
den schönsten Songs aus Filmmusicals.
Freuen Sie sich auf Musical-Highlights mit den Originalstars der großen Produktionen – noch dazu bei einem Open-Air-Event der Extraklasse im idyllischen Burgtheater in Dinslaken, das seit mehr als einem Jahrzehnt für Fans aus der ganzen Welt zur Topadresse in Sachen Musical zählt.
Es erwartet Sie ein Musicalprogramm der Superlative mit Songs aus Shows wie…
CATS, CINDERELLA, DREI MUSKETIERE, ELISABETH,
FROZEN, GAUDI, GOETHE!, GREATEST SHOWMAN,
ICH WAR NOCH NIEMALS IN NEW YORK, JOSEPH, KU'DAMM 56, LUDWIG², MOZART!,
THE PROM, REBECCA, ROBIN HOOD, ROCK OF AGES, STARLIGHT EXPRESS,
SUNSET BOULEVARD, TANZ DER VAMPIRE, TABALUGA & LILLI, TABOO,
TINA: DAS TINA TURNER MUSICAL uvm.
Freuen Sie sich auf einen ganz besonderen Abend der großen Stimmen und Emotionen!
Freuen Sie sich auf …
DIE GALA DER MUSICALSTARS
OPEN-AIR UNTER DEM STERNENZELT
Tickets 59,00, 69,00 und 75 Euro zzgl. Vorverkaufs- und Systemgebühr unter
https://tickets.soundofmusic.de