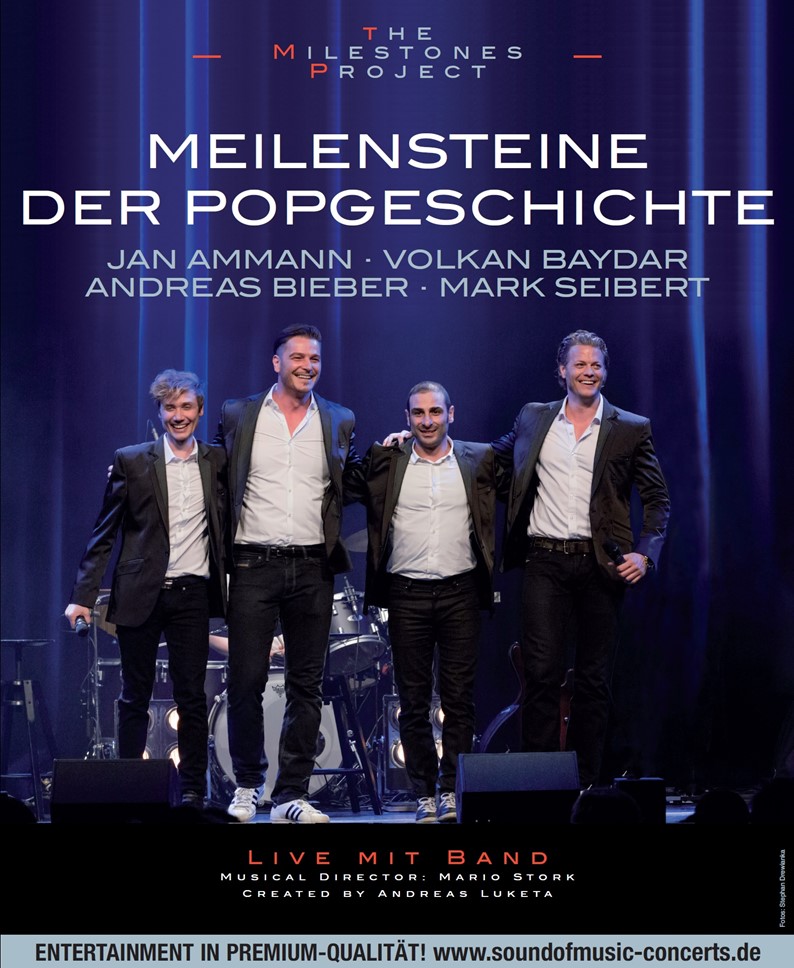 THE MILESTONES PROJECT – MEILENSTEINE DER POPGESCHICHTE
Live mit Band
Drei Superstars des Musicals: Jan Ammann, Andreas Bieber und Mark Seibert!
Ein waschechter Popstar: Volkan Baydar, Sänger der Band "Orange Blue"!
Fünf hervorragende Musiker… und ein Programm mit den großen Hits und echten Meilensteinen der Musikgeschichte!
THE MILESTONES PROJECT nimmt Sie mit auf eine musikalische Zeitreise mit unsterblichen Hits von den 60er Jahren bis heute – und das quer durch musikalische Genres wie Pop, Rock, Musical, Soul, Country, Folk und den großen Erfolgen im German-Pop-Bereich.
Jan Ammann, Volkan Baydar, Andreas Bieber und Mark Seibert – vier großartige Solisten mit starker Bühnenpräsenz und einer großen Leidenschaft für die Musik – treffen auf unvergessliche Hits von Stars und Bands wie ABBA, THE BEATLES, BOYZONE, LADY GAGA, MICHAEL JACKSON, MADONNA, METALLICA, GEORGE MICHAEL, MIKE OLDFIELD, PUR, THE SCORPIONS, SUNRISE AVENUE, TAKE THAT oder U2.