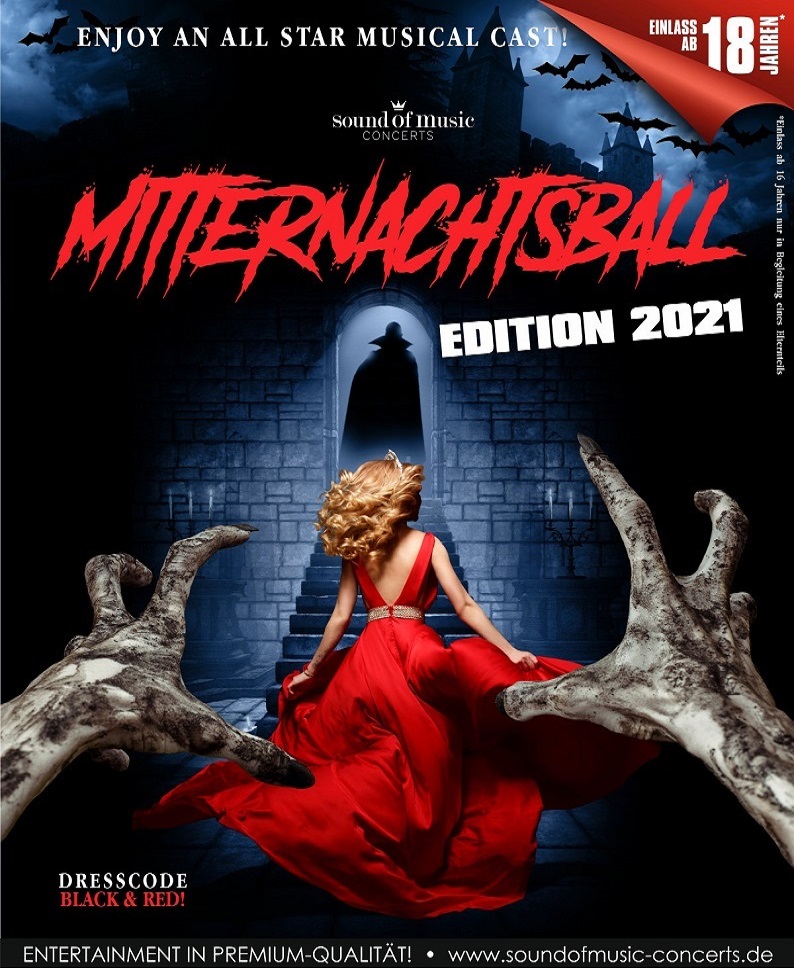 Sound Of Music Concerts
Andreas Luketa & Markus Tüpker present…
MITTERNACHTSBALL 2021
DIE LANGE HALLOWEEN-HORROR-MUSICAL-NACHT
STARRING
Jan Ammann, Andreas Bieber, Philipp Büttner, ETHAN FREEMAN, JONAS HEIN, Dennis Henschel, Misha KovAR, SASCHA KREBS, MARLE MARTENS, Alex Melcher, KAREN MüLLER, CHRIS MURRAY,
BRIGITTE OELKE, FRIEDRICH RAU, Drew Sarich, Michaela Schober,
ROBERTA VALENTINI & ANJA WENDZEL.
WITH THE FABULOUS CAST OF
Sophie Alter, Anneke Brunekreeft, Lina Gerlitz, Nico Hartwig,
Lukas Mayer, Florian Minnerop, Leon Petzold & Sophia Riedl
THE MIDNIGHT DANCERS
LIVE-BAND
MUSICAL DIRECTOR: BERND STEIXNER
REGIE: YARA HASSAN
CREATED BY ANDREAS LUKETA
Zum 4. Mal in Folge laden Vampire, Mörder, Hexen und andere dunklen Mächte am Halloweenabend zum MITTERNACHTSBALL nach NRW ein.
Bei diesem Konzertevent der Superlative erwarten Sie auch im Jahr 2021 die Schattengestalten des Musicals, um Sie in eine musikalische Welt zwischen Tod, Alptraum und Mystery zu entführen. Freuen Sie sich auf Songs aus Frank Wildhorns Musicalhits DRACULA & JEKYLL & HYDE, begleiten Sie Elphaba, Glinda und Fiyero im Musical WICKED – DIE HEXEN VON OZ auf ihren Abenteuern im Smaragdwald. Treffen Sie im düsteren Transsylvanien Alfred, Herbert, Sarah und Graf von Krolock nebst Gefolgschaft beim TANZ DER VAMPIRE. Begrüßen Sie seine Majestät den Tod und die unglückselige Kaiserin ELISABETH und steigen Sie hinab in die Katakomben der Pariser Oper, wo DAS PHANTOM DER OPER Sie erwartet.
Machen Sie Bekanntschaft mit der zwielichtigen MISS DANVERS aus REBECCA, dem GLÖCKNER VON NOTRE DAME, mit ELSA aus DIE EISKÖNIGIN, mit dem SCHATTENMANN aus LUDWIG², der mörderischen NORMA DESMOND aus SUNSET BOULEVARD, dem Gaunerkönig MACKIE MESSER aus der DREIGROSCHENOPER oder der KILLER QUEEN aus WE WILL ROCK YOU.
Im letzten von insgesamt vier Konzertakten geleiten wir Sie dann nicht nur zur Audienz beim sexhungrigen Frank'n'Furter aus der ROCKY HORROR SHOW, sondern feiern gemeinsam mit Ihnen beim HALLOWEEN-HIT-MIX das große Finale mit jeder Menge Rock-, Pop- und Soulnummern, die von Tod, Hölle, Teufel, Blut, Zombies oder Monstern handeln. Freuen Sie sich auf eine musikalische Achterbahnfahrt mit jeder Menge Überraschungen.