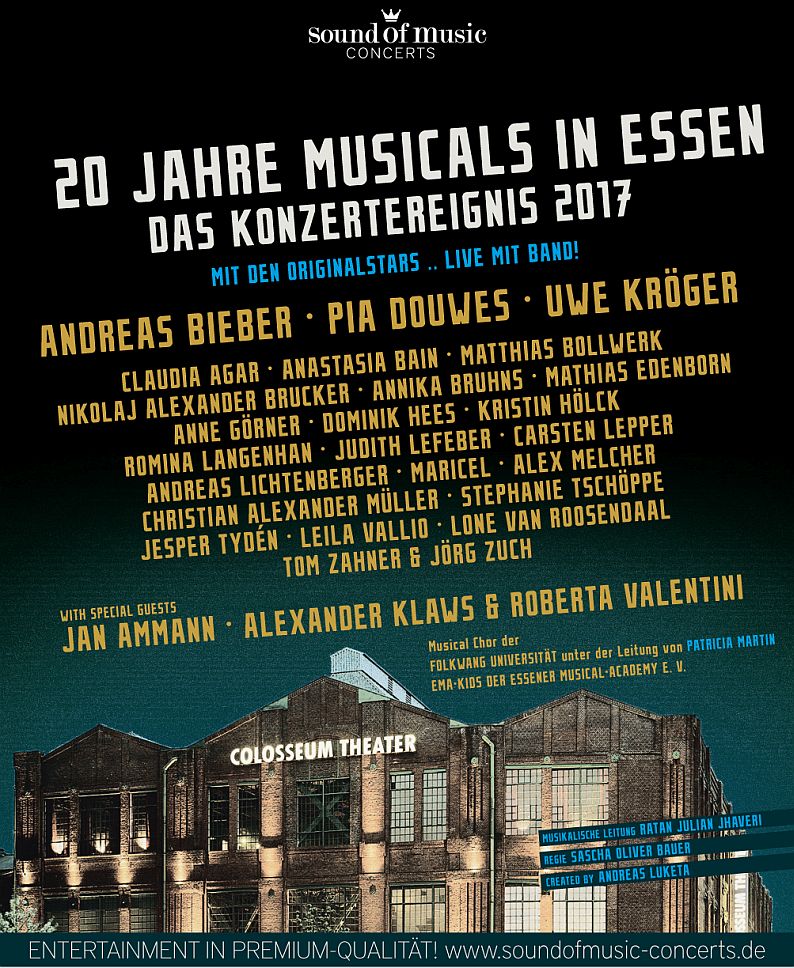 20 JAHRE MUSICALS IN ESSEN
DAS KONZERTEREIGNIS 2017
MIT DEN ORIGINALSTARS….
ANDREAS BIEBER, PIA DOUWES, UWE KRÖGER,
CLAUDIA AGAR, ANASTASIA BAIN, MATTHIAS BOLLWERK, NIKOLAJ ALEXANDER BRUCKER, ANNIKA BRUHNS, MATHIAS EDENBORN, ANNE GÖRNER, DOMINIK HEES, KRISTIN HÖLCK, ROMINA LANGENHAN, JUDITH LEFEBER, CARSTEN LEPPER, ANDREAS LICHTENBERGER, MARICEL, ALEX MELCHER, CHRISTIAN ALEXANDER MÜLLER, STEPHANIE TSCHÖPPE, JESPER TYDÉN, LEILA VALLIO, LONE VAN ROOSENDAAL, TOM ZAHNER & JÖRG ZUCH.
SPECIAL GUESTS: JAN AMMANN, ALEXANDER KLAWS & ROBERTA VALENTINI
MUSICALCHOR DER FOLKWANG-UNIVERSITÄT UNTER DER LEITUNG VON PATRICIA MARTIN
EMA-KIDS DER ESSENER MUSICAL-ACADEMY E.V.
LIVE MIT BAND
MUSICAL DIRECTOR: RATAN JULIAN JHAVERI
REGIE: SASCHA OLIVER BAUER
CREATED BY ANDREAS LUKETA FOR SOUND OF MUSIC-CONCERTS
Am 13. Dezember 1996 feierte im Essener Colosseum Theater das Musical JOSEPH AND THE AMAZING TECHNICOLOR DREAMCOAT seine Premiere und markierte den Start für das Abenteuer "Musicals in Essen". Drei Jahre lang stand Andrew Lloyd Webbers knallbuntes Bibelmusical auf dem Spielplan, im Anschluss daran folgte das Musicalgastspiel "Jesus Christ Superstar", sowie die Longrunproduktionen "Elisabeth", "Aida", "Das Phantom der Oper", "Mamma Mia", "Ich will Spaß " und "Buddy".
Durch diese mitreissenden Shows wurde Essen zur waschechten Musicalstadt und das Colosseum Theater (nach wie vor) zu einer Topadresse im Musical- und Entertainmentbereich.
Sound Of Music-Concerts lässt gemeinsam mit den Originalstars von einst und namhaften Gästen all die wunderbaren Bühnenmomente exklusiv für einen Abend auferstehen und präsentiert die großen Musicalerfolge live mit Band.
20 JAHRE MUSICALS IN ESSEN  – DAS KONZERTEREIGNIS 2017!