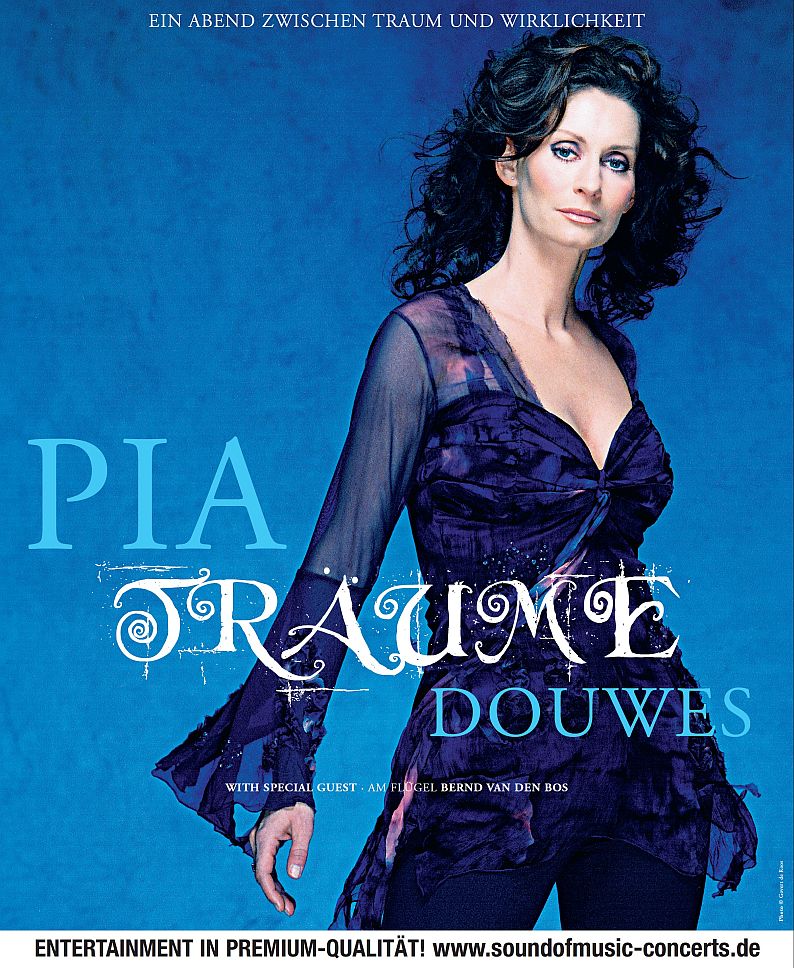 PIA DOUWES – TRÄUME…
EIN ABEND ZWISCHEN TRAUM UND WIRKLICHKEIT
With Special Guest
Am Flügel: Bernd van den Bos
Nach dem großen Erfolg der Tournee "Ein Abend im Dezember", präsentiert Sound Of Music Concerts das neue Soloprogramm TRÄUME der wunderbaren PIA DOUWES –  unvergessen als erste "Elisabeth" der Wiener Erfolgsproduktion und zuletzt  in den Musicals DER BESUCH DER ALTEN DAME, BILLY ELLIOT und NEXT TO NORMAL.
Der international gefeierte Bühnenstar lädt zu einer sehr persönlichen Reise in das Reich ihrer TRÄUME ein, und erzählt musikalische Geschichten, die einen breiten stilistischen Bogen zwischen Pop, Musical, Country und Blues spannen.
"Meine Träume haben viele Farben – und darum ist das Programm auch musikalisch sehr bunt und facettenreich geworden", erzählt Pia Douwes.
"Als Künstlerin sind bis heute fast alle meine Träume wahr geworden, doch als Mensch und Privatperson sind einige Träume zugunsten meiner Karriere auf der Strecke geblieben. Ich glaube daher, dass viele Konzertbesucher ihre eigenen Sehnsüchte und Wünsche in meinem Programm wiederfinden werden. Lasst uns also gemeinsam TRÄUMEN!"
Einen Abend lang wird PIA DOUWES den Theatersaal in einen Palast der Träume verwandeln.
Machen Sie sich bereit für zwei unvergessliche Stunden mit großen Emotionen, mal melancholisch – mal humorvoll.
Und das  mit jeder Menge Leidenschaft und großer künstlerischer Hingabe – genau so wie man PIA DOUWES kennt.