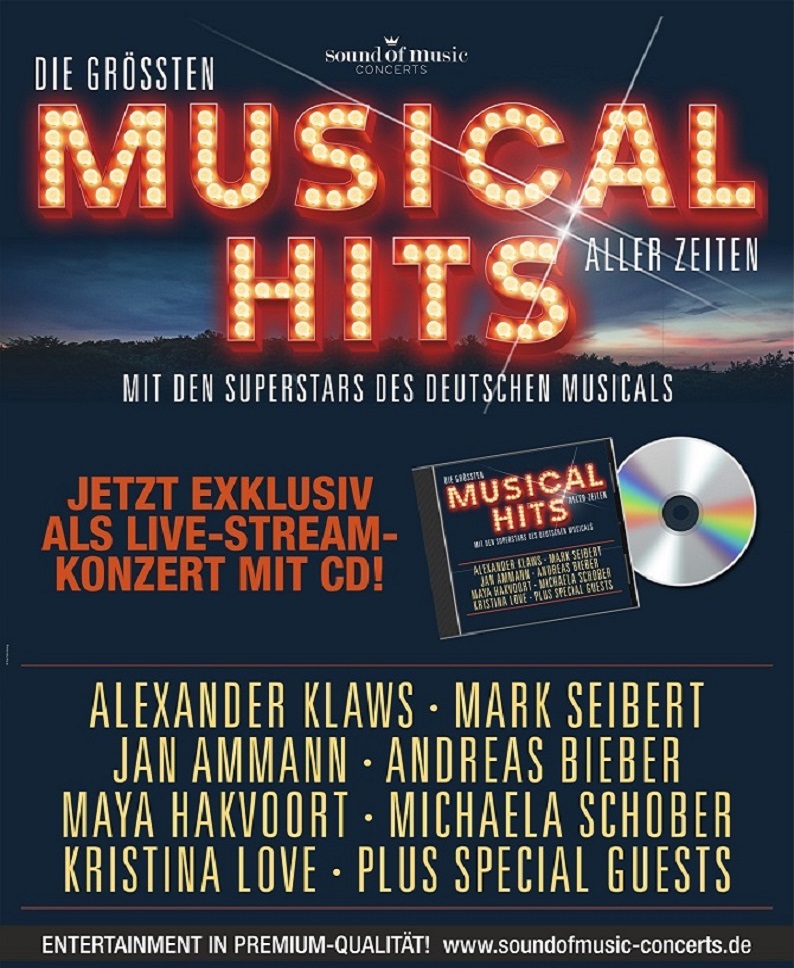 Die größten MUSICAL HITS aller Zeiten – Summer Edition 2021
DAS DELUXE-STREAMING-KONZERT MIT DEN TOPSTARS DES MUSICALS

JAN AMMANN, ANDREAS BIEBER, MAYA HAKVOORT, ALEXANDER KLAWS, KRISTINA LOVE, MARK SEIBERT, MICHAELA SCHOBER WITH 6 SPECIAL GUESTS
Die einzigartige Show "Die größten MUSICAL HITS aller Zeiten – Summer Edition 2021" die faszinierende Welt der Musicals rund um die größten Stars der Musicalbühnen im deutschsprachigen Raum. Gemeinsam mit dem Kreativteam bestehend aus Yara Hassan (Regie), Bernd Steixner (Musical Director) und Andreas Luketa (Creative Director) machen die unverwechselbaren Stimmen von Alexander Klaws, Mark Seibert, Jan Ammann, Andreas Bieber, Maya Hakvoort, Michaela Schober und Kristina Love diesen Abend unvergesslich.
Die sieben Ausnahmekünstler performen unsterbliche Hits aus Shows wie ELISABETH, TANZ DER VAMPIRE, CATS, GREATEST SHOWMAN, STARLIGHT EXPRESS, DAS PHANTOM DER OPER oder JOSEPH.
Dabei dürfen natürlich auch die Hits aus den Compilation-Musicals MAMMA MIA!, ICH WAR NOCH NIEMALS IN NEW YORK, ROCK OF AGES, TINA – DAS TINA TURNER MUSICAL und WE WILL ROCK YOU, oder Hits aus Musikfilmen wie DIE EISKÖNIGIN 2 oder A STAR IS BORN nicht fehlen. Neben all den bekannten Hits werden zusätzlich die schönsten Songs aus den brandneuen Musicalhighlights DEAR EVAN HANSEN, KU'DAMM 56, GOETHE!, JAGGED LTTLE PILL, PRETTY WOMAN, THE PROM, WAITRESS und dem brandneuen Musical CINDERELLA von Andrew Lloyd Webber präsentiert.