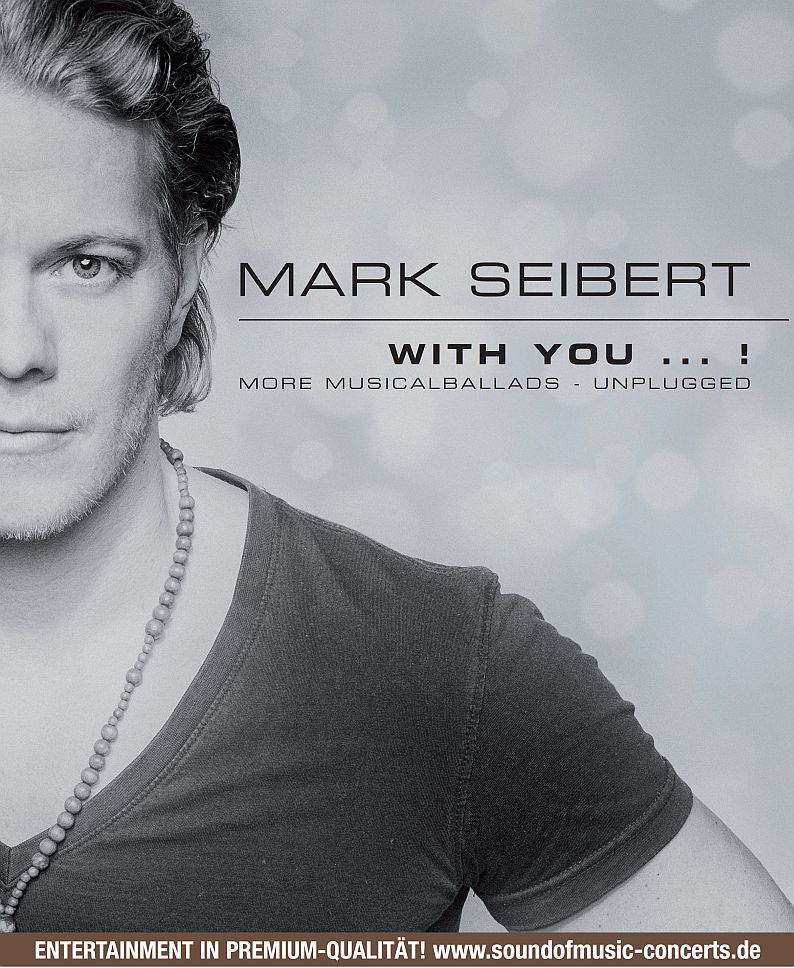 MARK SEIBERT – WITH YOU…!
MORE MUSICALBALLADS UNPLUGGED
LIVE MIT BAND
SPECIAL GUESTS: SASCHA KURTH & ROBERTA VALENTINI
Aufgrund der umjubelten Konzerte in 2013 und der damit verbundenen Nachfrage nach Zusatzkonzerten gibt sich MARK SEIBERT erneut die Ehre und präsentiert eine Wiederaufnahme seines äußerst erfolgreichen Soloprogramms WITH YOU…!
Der erfolgreiche Musicalstar, der aktuell das österreichische Theaterpublikum als Tod der neuen Wiener ELISABETH-Produktion begeistert, präsentiert sich erneut als Sänger, der sich im Acoustic-Pop mit großer Leidenschaft zuhause fühlt.
Mit WITH YOU…!  geht MARK SEIBERT den musikalischen Weg seiner erfolgreichen Tournee MUSICALBALLADS UNPLUGGED konsequent weiter und kombiniert Songs aus einigen seiner größten Bühnenerfolge, mit Musicaltiteln seiner gleichnamigen, im Herbst 2012 erscheinenden neuen Solo-CD – und das im Feel Good- Acoustic-Sound.
Und natürlich darf bei WITH YOU…!  auch eine feine Auswahl an Popjuwelen nicht fehlen – allesamt Songs, die dem charismatischen Sänger ganz besonders am Herzen liegen.
WITH YOU…! – das ist ein musikalisches Happening für und mit MARK SEIBERTS  zahlreichen Fans, und gleichsam ein Bekenntnis zu einem Konzertkonzept, das hautnah, direkt, natürlich und ganz nah am Publikum ist.